CMA Video's video marketing blog has been recognised as one of the best video marketing blog sites on the internet by a leading blog review website.
The website Feedspot rates and reviews blogs across the web and identifies the best ones on a number of criteria including:
Google reputation and Google search ranking
Influence and popularity on Facebook, twitter and other social media sites
Quality and consistency of posts.
Feedspot's editorial team and expert review
From literally thousands of video marketing blog websites and submissions, the best 50 on the web have made it on to their final list and we are proud to be included on the list alongside the likes of Flipboard, Vidyard, Reddit and Smart Insights.  Even more impressive is that we are one of just five of the video marketing blog sites on the list that are based in the UK with the majority being produced in the United States.
Director of marketing at CMA Video, Adam Snelleksz said:
"It's fantastic news that our video marketing blog has been recognised as one of the top 50 on the web.  We offer more than just video production and our expertise in all things video extends not just making videos but also advising on how to use and distribute marketing videos and SEO based video advice and activation.  Our production team of Mitch Remes and Jack Buck along with our video insight activation specialist, Leon Deakin and myself all help to create full service video solution to our clients.  To think that our blogs and advice are read by thousands of people around the world is amazing."
CMA Video currently works with several organisations producing their video content but also on the video activation side that is highlighted by the blogs that we write. The blogs offer a snapshot of what we can do and the advice we give to our clients to not just make their videos better but also make those videos actually work for them – be it increasing sales, awareness, social media presence and more.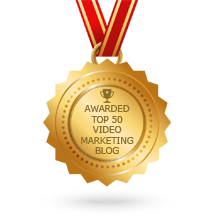 To view the whole list click on the medal and to read to our video marketing blog articles click here for the full archive.  If you have a subject that you would like us to consider in a future blog please contact us here.